The Character

of the Grapes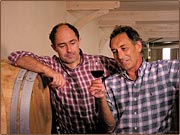 Franck Descudé and
Denis Barraud
In all our different wines, we vinify in such a way as to let the grapes show their own character as much as possible.
After being rigorously sorted on tables as they enter the winery, the harvest is destalked and lightly crushed. Long macerations are carried out in order to extract all their aromas. Cold maceration under dry ice is carried out before fermentation and then after it a further maceration takes place with the cap being regularly and frequently punched down into the wine (pigeage).

Move your move over the images to read the captions. Clic to enlarge.
The first (or alcoholic) fermentation takes place at relatively low temperatures so as to
maintain these aromas. The fermentation of the Cuvée Lynsolence is carried out in thermostatically controlled wooden vats and also in new 400 litre barrels.
After malolactic fermentation, the wine is aged in barrels in two huge, perfectly air conditioned wine stores. New barrels are used for the cuvée Lynsolence and for Château Les Gravières, and barrels that have been used once before for the rest.
The wines are aged on their lees to extract yet more flavour. By using the OXO system which allows us to rotate the barrels without having to move them, the lees can be mixed into the wine again without any rough handling.
Bottling is carried out under vacuum, in a separate air conditioned area.