Welcome

to Saint-Emilion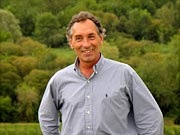 Denis Barraud
The estate has been family owned since it was first created at the end of the 19th Century. My grandfather, Pierre-Henri Descrambe enlarged it and he passed on to me his love for the vine. I have been in charge since 1971.
The estate now consists of 36 hectares (89 acres) :
- 7 (17 acres) of these have the appellation Saint-Emilion, where excellent terroir and low yield give complex dense wines with very gentle tannins :
- The remaining 29 hectares (72 acres) have the appellation Bordeaux, where an excellent terroir near St Emilion gives us wines of great finesse :
You can only make good wine if you have meticulously looked after the vines so that they give
good grapes. We take great pains over our viticultural methods to obtain perfectly ripe grapes. We then vinify in such a way as to let these ripe healthy grapes express themselves and in so doing, perfectly reflect our wonderful terroir.
Since 1998 the cuvée Lynsolence, named by my daughter Sandra who also designed the label, is the perfect example of the depth and finesse that we seek in all our wines.